If there's one thing I love to do, it's drinking water.  I know there's a lot of folks out there that have the mindset (and it is TOTALLY a mindset) that water is gross.  I have bad news for those negative water Nellies… water is the best thing that you can possibly give to yourself.
The human body is primarily water and dehydration can cause more problems that you'd even imagine and land you in the ER.  Too many GF folks still rely on flavored beverages, soda and juice and that's a clear mistake for a number of reasons that my guest Alysa Bajenaru, RD will touch on in a moment.
What's more is that those of us in the US (and many other Western countries) take for granted our access to clean water at the flip (or turn) of the facet.  We can be notorious for wasting water (long showers, anyone?) or not bothering with it at all because beverage industry giants have convinced us that we should PAY for bottled (tap) water from someone else's water table.
Alysa is going to set the record straight about why you must start drinking water and why you should re-evaluate your relationship to all those bottled products (heart attack, anyone?).  And she's got a challenge for the next 40 days that I've decided to join her on which also benefits someone else on the other side of the world.  Without further adieu…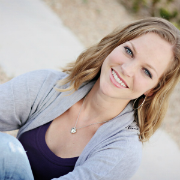 Name: Alysa Bajenaru
Website: http://www.InspiredRD.com
I am a… Dietitian, Personal Trainer, Writer, & Justice Advocate
Why is it important for GF folks to drink water rather than other drinks?
Everyone should drink mostly water, gluten-free or not. For us gluten-free folks, it's important because many drinks contain or can be contaminated with gluten. I had a reaction to lemonade once! Plus, we are always striving to have a healthy gut, and water is essential for that.
Can drinking other beverages actually detract from a healthy GF lifestyle?
Drinking other beverages increases our calorie load and sugar intake both of which can harm a healthy lifestyle. And diet drinks are no better! You don't get the extra calories, but you end up consuming artificial chemicals and missing out on much needed water.
Is drinking water good for your heart?
Yes! People who drink more than five glasses of water a day are about half as likely to die from a heart attack as those who drink less than that (which does not prove true for other drinks when in fact the opposite occurs).
What are 5 ways GF folks can get more water into their daily routines?
Carry a reusable water bottle with you at all times! If you have water in front of you, you will be more likely to drink it.
Add fruit to your water to make it more fun. There are even special water bottles out that let you put fruit in the bottom so it will infuse the water as you drink it. (Check out these tasty infused beverages: Watermelon Cooler, Lemon Mint Water, Berry Lemonade, and Cucumber Water)
Add some bubbles. Try sparkling water for a treat, just be sure to get a brand with no artificial sweeteners or flavors.
Drink up first thing in the morning. As soon as you get out of bed, guzzle down a glass of cool water. Start the day hydrated!
Set a reminder on your smart phone. Every time the alarm goes off, drink a glass of water!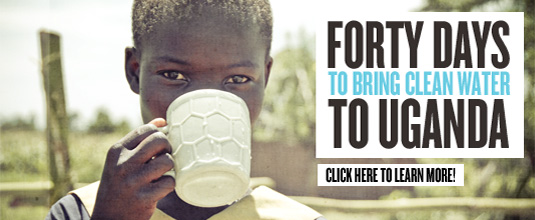 Why were you inspired to get involved with the 40 Days of Water project? 
After traveling to Ethiopia last summer, my eyes have truly been opened to the plight of those who don't have clean water. Kids are dying every day from a lack of something so basic that I tend to take for granted. If I can help bring awareness to this and raise funds for clean water wells, I am happy to do it!
Why should the GF community (and anyone else out there) care about helping Ugandans have clean water?
Take a minute to think about what it would be like to be a mom in Uganda. Really take a minute and put yourself in her shoes. What would it be like to have to give your baby dirty water, hoping and praying that this time they won't get sick? Now think about how easy it is to help that mom. Give up your soda/coffee/wine for 40 days and give the money you would have spent to the moms in Uganda hoping to give their children clean water. Your heart will be healthier because of all of the extra water you're drinking, and your spirit will be full of joy for the clean water  you are giving to another. What's better than that?
To learn more & register, visit 40days.bloodwatermission.com
Leave a comment below…
letting us know that you have joined Alysa and I on this journey to improve our own GF lives while sharing the benefits of clean water with Ugandans.